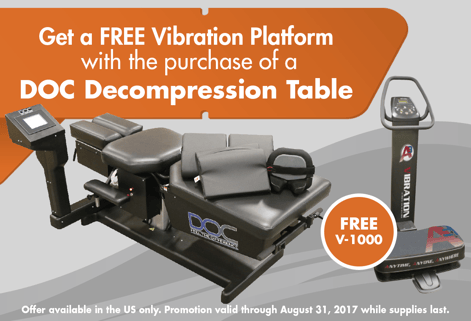 Through August 31st, 2017 we are including an A3 V-1000 Vibrating platform for free with the purchase of a DOC Decompression table at $13,999. Just pay shipping and enjoy this $1,999 Value for free.
Offer available in the US only. Promotion valid through August 31, 2017 while supplies last. Not valid with any other offer or promotion.
Here's what you get for $13,999 plus shipping:
DOC Lumbar/Cervical decompression table with all accessories
Training to ensure the absolute best patient results
Financing around $300 Monthly on approved credit
1 year warranty
Pre-programmed lumbar and cervical decompression protocols & Customizable treatment protocols
Built-in safety features
Patient setup & training materials and MORE!
---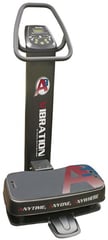 Here's what you get for free:
A3 V-1000 Vibrating Platform (Retail $1,999)
Resistance Straps
Exercise Poster
Exercise DVD
Take your spinal decompression results to the next level by incorporating this effective A3 Vibration platform for:
Post spinal decompression strengthening to decrease pain, symptoms
Increased strength to maximize long term spinal decompression results
Increases Proprioception and Kinesthetic Awareness
Promotes Muscle memory
Promotes Rehabilitation and Injury Prevention
Is excellent for sports specific Functional Training
Improves results of weight loss post lipolaser
Improves results of neuropathy patients post neuropathy treatments